ARCS scholar Sarah Neshat experienced her first thrill of science in an after-school program at her Oakland middle school. "I distinctly recall learning about nanotechnology and electric circuits as a 13-year old while soldering things together," she says.
She credits Techbridge, the nonprofit program that focuses on getting young, underrepresented girls interested in STEM for her passion today.
"I spent the first few years of my life learning English alongside my parents, and became the family translator, from government letters in the mail to parent-teacher conferences," she says.
Programs such as TechBridge and CollegeTrack "helped me immensely in finding my passions and laying the groundwork for my education."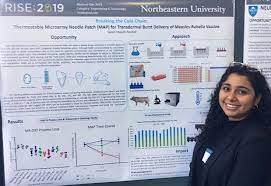 ARCS Scholar Sarah Neshat
Today, Neshat is a PhD Candidate in Biomedical Engineering from Johns Hopkins University.  "As a woman of color and a first-generation high school and college graduate in my family, I am very excited to break barriers during my biomedical engineering career," she says.
Her goal is to take current scientific technology and expand it to design gene therapies.  These therapies can engineer the immune system to both "stimulate and clear tumors or suppress and prevent autoimmune disease progression," she says.
"Recent novel RNA delivery biotechnologies have the potential to impact medicine and are being investigated in clinical trials," she explains.  Some of those biotechnologies in the clinic include the current FDA-approved Moderna and Pfizer/BioNTech mRNA SARS-CoV-2 vaccine. According to Neshat, these vaccines set the precedent for subsequent gene delivery methodologies.
"This area of research excites me immensely," Neshat says.
Recalling the experiences from her past, Neshat and a peer founded a program that aims to increase diversity in biomedical programs. They named it the John Hopkins University Biomedical Engineering Application Assistance Program, and it provides mentorship and guidance to potential applicants.
She also serves on a Johns Hopkins committee on equity, diversity, and inclusion in the graduate program and, in her spare time, mentors undergraduate students in the lab.
Knowing the power of community support, Neshat appreciates the ARCS award. "I'm particularly excited to use the ARCS award to attend an international conference specialized to my research interests. This will allow me to network with potential future employers and mentors while disseminating my ideas, improving my communication skills, and receiving experimental feedback," she says.