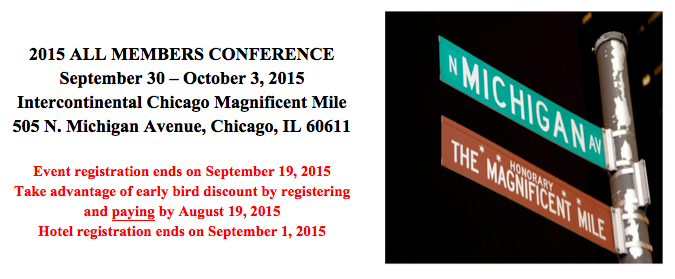 >> To register, scroll down to the bottom of this page. <<
Dear SEAC Members,
I am excited to invite you to the 2015 ARCS Foundation All Members Conference (formerly NAM) in Chicago from September 30 to October 3 at the fabulous Intercontinental Hotel on the city's Magnificent Mile.
Patsy Caruso and her committee have put together an exciting event full of workshops, panels and tours based on member suggestions and requests. The panels and workshops are designed to meet members' requests to learn more about our ARCS Scholar Alumni, future trends and challenges in science education and policy, and how to do our jobs better and smarter. We will kick-off our conference on Wednesday evening, with a welcome reception at the University of Chicago Gleacher Center.
Thursday morning's opening session features panels with ARCS Scholar Alumni and members of the Science and Engineering Advisory Council (SEAC), to share views about Mission, Vision and Impact of ARCS Foundation – the Look Ahead. Our annual ARCS Light Luncheon will honor and celebrate the contributions of our outstanding members nominated by their Chapters. During the afternoon, members will gain new insights and skills from Thursday afternoon workshops while SEAC will be meeting as a group.
Thursday evening's reception and dinner will be at America's first planetarium, the Adler, which features award-winning exhibits and views of the Chicago skyline. We will be greeted by Dr. Michelle Larson, the President and Chief Executive Officer of the Adler, and our distinguished speaker, Dr. Edward (Rocky) W. Kolb, Dean of the Physical Sciences Division and Arthur Holly Compton Distinguished Service Professor, Department of Astronomy and Astrophysics of the University of Chicago, will bring to us the newest discoveries about the beginning of our universe and life beyond our Earth.
On Friday morning, we will hear from the internationally- recognized paleontologist Dr. Paul Sereno, Professor of Paleontology at the University of Chicago and a National Geographic "explorer-in-residence," and tour his Fossil Lab. Following a buffet lunch at the hotel, you can join an optional afternoon tour: The Devil in the White City tour or the Chicago Architecture River Cruise. That evening, you may choose to attend a performance by Second City, a Chicago and National institution!! All members are invited to continental breakfast and the National Board meeting on Saturday morning.
This is going to be an educational and fun-filled conference and we are grateful for your participation.
See you in Chicago!!
Lynne Brickner, National President
**Event Details**
Please note that SEAC members conference registration, Wednesday evening Opening reception, Thursday morning panel sessions, and ARCS Light Luncheon are complimentary (no charge). Thursday dinner @ Adler (or other), lodging, and transportation is the responsibility of each SEAC member.
Activities Included with Registration:
Wednesday evening Opening Reception; Thursday panel sessions, workshops, and ARCS Light Luncheon; Thursday evening reception and dinner at the Adler Planetarium; Friday morning tour of University of Chicago Fossil Lab and buffet lunch; and Saturday continental breakfast.
Please note that in accordance with National Financial Policy, all ARCS members and their guests, spouses, and significant others, except the members of the Illinois Chapter, shall pay the full registration fee regardless of the number of meals they will be attending. All National Board members who are also members of the Illinois Chapter must register and pay the full registration fee. Illinois Chapter members who are not members of the National Board should obtain and complete the Illinois Chapter Registration Form.
Optional Activities for Friday, October 2:
The Devil in the White City Bus Tour: $34 per person/23 person maximum, Friday, October 2nd, 2:00 to 5:15 pm, Chicago Architecture Foundation, 224 S. Michigan Avenue (John Buck Lecture Hall).
This tour is a docent-led bus tour that can accommodate up to 23 participants. It begins with a 45-minute presentation in John Buck Lecture Hall at the Chicago Architecture Foundation headquarters, roughly 1 mile south of the Intercontinental Hotel (individual transportation). This presentation is followed by a bus tour of the site of the 1893 World's Columbian Exposition and other locales from Eric Larson's best- selling novel. Elapsed time for the tour and lecture is approximately 3 hours and 15 minutes.
Chicago Architecture River Cruise: $42 per person/50 person maximum, Friday, October 2nd, 2:00 to 3:30 pm, First Lady Riverside Gardens Dock (southeast corner of the Michigan Ave. Bridge (Michigan & Wacker Dr.) t corner).
This tour departs from a dock at the river's edge below the Michigan Avenue Bridge.. Passengers line up at the dock and choose seats on a first-come, first-served basis. It is recommended that participants arrive at the dock 20-30 minutes in advance of the scheduled departure time of 2:00 pm (individual transportation). Voted "Chicago's Best Tour" by Chicago Reader, the CAF River Cruise should be at the top of any visitor's "must-do" list. CAF-certified volunteer tour guides interpret more than 50 buildings along the Chicago River, revealing how the city grew from a small back-country outpost into one of the world's most important crossroads in less than 100 years. In 90 minutes, get the real story on Chicago architecture and its history.
Second City Performance: (90 tickets/first-come, first-served), Pricing by section: Rail – 20 tickets at $48 each; Floor – 13 tickets at $35 each – Platform – 57 tickets at $28 each – plus bus transportation of $14 per person
**Hotel Reservations**
The hotel for the conference is the Intercontinental Chicago Magnificent Mile, 505 N. Michigan Avenue, Chicago, IL 60611. The rate is $269, plus tax (Grand Tower Room). This rate will be honored three (3) days before/after the official meeting dates based on availability. The preferred reservation is through this web site to facilitate tracking: http://goo.gl/QWu6GO. However, you can also call 800-628-2112 or 312-944-4100 and reference yourself as attendees of the ARCS Annual Conference or block code LWP.
THE CUT-OFF DATE TO RESERVE YOUR ROOM IS SEPTEMBER 1, 2015, AFTER WHICH AVAILABILITY AND RATE CANNOT BE GUARANTEED.
**Transportation to the Hotel**
Taxis are available from both O'Hare and Midway Airports and cost approximately $40 and $30 respectively. The Continental Airport Express also runs shuttles to downtown hotels at a cost of between $20 and $25 per person. Public transportation is available via CTA 'El' trains for $2 per person. From O'Hare, take the Blue Line train to Clark and Lake stop and then a five-minute cab ride. From Midway, take the Orange Line train to the State & Lake stop and then a five-minute cab ride.
**Contact and Support**
For questions regarding the registration process only, contact Beth Wainwright, bethwainwright@gmail.com
For questions regarding your hotel reservation or registration fees only, contact Andi Purple, Andipurple@aol.com
For all other general AMC questions, contact Conference Chair, Patsy Caruso, patz1400@yahoo.com
IMPORTANT DATES:
Event Early Registration ends August 19, 2015
Hotel Reservation Cut-off Date is September 1, 2015
Event Registration ends September 19, 2015
September 30th, 2015 6:00 PM through October 3rd, 2015 12:00 PM
Intercontinental Hotel




505 N. Michigan Avenue




Chicago

,

IL

60611




United States