Together, we can create a legacy for the future of our nation with scientific accomplishments that are yet to be achieved.

A new cure for a disease or an innovative new technology is always a big story, but what's rarely reported is the critical work that led to those discoveries - basic research. In recent years, our government has steadily reduced its support for basic research at U.S. colleges and universities. This is where ARSC Foundation steps in to fill the gap.
ARCS Foundation is a national organization dedicated to supporting the best and brightest U.S. graduate and undergraduate scholars by providing financial awards in science, engineering and medical research. Since 1958 we have funded more than 10,000 STEM scholars with over 17,000 Scholar Awards at U.S. universities.
Organizations that support the mission of ARCS Foundation are vital to providing the resources needed to fund its work. We work closely with corporate and industry organizations to address STEM-related challenges to our nation's future.
---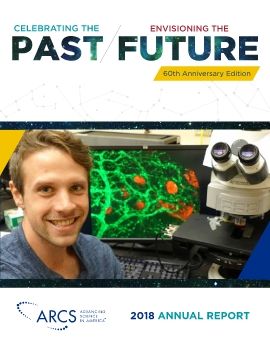 Annual Partnership Levels:
$5,000 – Listing in Annual Report, recognition on the website, logo usage
$10,000 – All of the above + recognition in two emails and social media posts, one conference registration
$15,000 – All of the above + recognition in three emails and social media posts, two conference registrations, recognition in conference program, press release
$25,000 – All of the above + recognition in five emails and social media posts, four conference registrations, recognition in conference program, press release
Learn more about Partnership by contacting Sally McDaniel, Chair, Fund Development at 404-931-4461
Corporate Partner Benefits
Celebrate our past and help develop our future by becoming an ARCS Foundation Corporate Partner. Fund the future of STEM in the United States and also receive:
Promotion and recognition as a supporter of scientific research on a national and local level through social media, emails, e-newsletters, ARCS Foundation website, press releases and conferences per giving level.

An opportunity to connect with scholar alums, filling your staffing pipeline with the best and brightest

Access to a network of top-ranked universities for recruiting of recent graduates
ARCS is excited to offer yearlong corporate sponsorships!
Join ARCS Corporate Sponsor Lockheed Martin as an ARCS Sponsor
Where do the dollars go?
ARCS Foundation is dedicated to building corporate partnerships as a key way to advance science in America. Through these key partnerships, ARCS Foundation is able to fund scholars, chapters, and programs.
National Corporate Scholar Program

With fewer new U.S. scientists earning degrees in the United States than in competitor nations, the edge goes to those enterprises that have the talent to innovate. ARCS National Corporate Scholar Program is a collaborative, joint funding model that helps ARCS Scholars obtain advanced STEM degrees, filling the pipeline with future leaders of U.S. scientific innovation.

As a corporate partner in ARCS National Corporate Scholar Program, organizations leverage the expertise and infrastructure of ARCS Foundation Scholar Award programs to reach promising scholars across our nation.
 
ARCS National Endowment Fund: Ensuring Sustainability for the Future

Established in 2001, ARCS Foundation National Endowment Fund provides much-needed operating capital for important national initiatives to expand ARCS and to support its chapters. Your contribution to ARCS National Endowment Fund will help ensure the sustainability of ARCS for generations to come.
 
ARCS National Operating Fund: Growing in Strength and Presence

Operating funds are used to maintain the national organization which provides services to all ARCS chapters, such as national media outreach, free collateral materials, webinars for chapter leaders, the annual conference and much more. Your operating donation means ARCS can invest in growth and development to strengthen its local presence in communities with top-ranked STEM universities.