There are chemicals in California's groundwater, and while cities have systems to treat the water, small rural communities and households using domestic wells must fund their own cleanup. One such chemical is 1,2,3 trichloropropanes (TCP). It is a suspected carcinogen present in hundreds of wells in California. Water treatment for TCP removal is costly and difficult for many households to afford. But Hope Hauptman, an ARCS Northern California Scholar, is researching methods to change that.
A Brief History of 1,2,3 trichloropropanes
TCP is a persistent organic compound that can last in the environment for a long time due to its stability. In California's case, farmers from the 1940s to 1980s used the chemical unknowingly as a contaminant in a fumigant to kill pests and prepare soils for planting. So, it's been leeching into the groundwater for decades. "And it will probably persist for hundreds of years," shares Hauptman.
Once communities caught onto the problem, some sued the chemical companies to treat their water, and many have won. Chemical companies learned that TCP was a contaminant that occurred in the fumigant's manufacturing process. Instead of removing it, they left it in and registered it as an "active" ingredient.
Why This Topic for a PhD?
After serving in the Peace Corps for two years in rural Kenya, where Hauptman didn't have clean drinking water and had to haul water in buckets, clean water became a passion for her. "It's unfair that some people, depending on your zip code, have to drink unsafe water," shares Hauptman.
She studies at UC Merced to get her PhD in Environmental Systems. She's researching treatment methods to treat groundwater containing TCP so rural and disadvantaged communities can treat their water affordably.
"I chose this project specifically because the most heavily impacted communities with this chemical, and others like mercury, are impacting disadvantaged communities," says Hauptman. "It's really expensive to take these chemicals out of the water, and these communities don't have the money to do it."
The Affordable Solution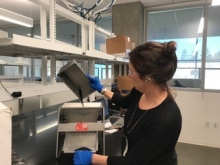 Hauptman's studies have found that carbon filters, like Brita filters, can be an effective way to remove TCP from water, but the carbon in these filters is mainly derived from imported coconut shells. California does not grow coconuts, but it does grow almonds.
California produces 80% of the world's almonds, so Hauptman proposes using the leftover almond shell waste to create biochar. "It's a way of producing charcoal, creating this sponge. Then you can expose it to contaminated water," explains Hauptman. It's still being tested, but Hauptman hopes to fine-tune it to absorb TCP efficiently and be used in household-level filtration. 
Hauptman is grateful for the financial support from ARCS, "It's helped me progress to complete my PhD and research this summer," says Hauptman. "I'm in a much better position because I can focus on my dissertation and graduate."