A winter hike through the icy Canadian mountains provided Dr. Jesse Salk the clarity he needed to crack the code in catching mutating cancer cells in their earliest stages. According to Salk, those frigid hikes gave him the space and time he needed to ponder ideas and theories.
And it worked. After that mountain hike, Salk spent time in the lab creating a diagram that led him to inventing and developing Duplex Sequencing technology, which can detect rapidly mutating cancer cells before they spread throughout the body.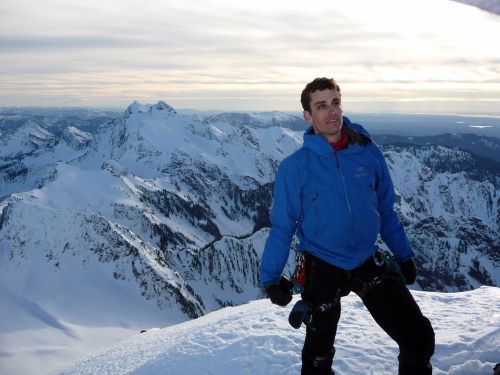 Dr. Jesse Salk hikes through the North Cascade mountain range in winter. It was during a similar journey that Salk discovered Duplex Sequencing, a method used to catch mutating cancer cells in their earliest stages. (Courtesy: Dr. Jesse Salk)
Salk says he created the foundation for the technology during his time as an ARCS Scholar (2009, 2010) while in graduate school at University of Washington (UW).
"Recognition from ARCS went a long way," he remembers. "Developing the technology didn't happen overnight. I was just beginning my research at the time that ARCS invested in me as a young scientist."
After graduation, Salk and some of his fellow UW peers utilized the Duplex Sequencing technology as the basis for a new company called TwinStrand Biosciences. Salk is the chief executive officer, chief scientific officer, and co-founder of the novel genetic sequencing technology company. TwinStrand Biosciences's main focus involves using the Duplex Sequencing software to independently track both strands of individual DNA molecules and compare the results to eliminate errors. The high-resolution software allows TwinStrand's technology to detect low-frequency DNA mutations quickly and reduce error rates from 1-in-100 to 1-in-10 million.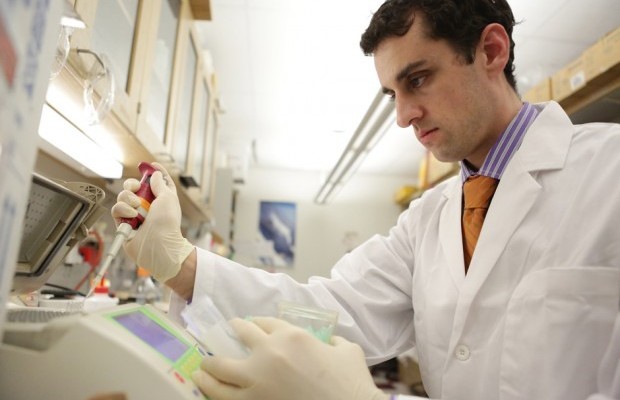 Dr. Jesse Salk prepares Duplex Sequencing libraries in the Loeb Lab at University of Washington. (Courtesy: UW Daily)
"Duplex Sequencing technology is 10,000 times more accurate than other, similar technologies in the medical field," Salk says. "It can help doctors detect and diagnose cancer at an early stage and confidently make clinical decisions that will put patients on the fast track to receiving treatment."
In addition to early detection, Duplex Sequencing can find residual cancer cells after treatment, create personalized treatments and therapies, identify drug resistance quickly in patients, and hasten the development of drugs in scientific laboratories. The technology can also identify carcinogenic chemicals by speeding up the process of genetic toxicology and analyzing harmful chemical exposure in human tissue.
Future applications of Duplex Sequencing include analyzing genetic evidence at crime scenes and diagnosing fetal genetic health issues before birth.

Duplex Sequencing independently tracks both strands of individual DNA molecules and compares the results to eliminate errors. (Courtesy: TwinStrand Biosciences, Inc.)
Revolutionizing medical science and technology is not new to Salk or his family. The Seattle researcher and oncologist is the grandson of Dr. Jonas Salk, a virologist who developed the polio vaccine in the mid-1950s.
"I think about that legacy. I think you're only as good as the legacy you leave behind, like creating tools and technology that benefit everyone," Salk says. "I try to live by that motto. It's what gets me up in the morning."
In addition to his work as a scientist, Salk exemplifies that motto by treating cancer patients at a local veterans hospital. He also teaches and mentors graduate students at University of Washington and shares his expertise with local middle school students who have engaged in STEM studies since their elementary school years and aspire to continue that learning in higher-level institutions.