San Diego State University (SDSU) postgraduate Dr. Joi Weeks dreamed of becoming a professor at her alma mater and mentoring young scientists to their fullest potential. But those dreams were cut short three months after she successfully defended her PhD in molecular biology. Joi passed away in September 2020 from complications associated with breast cancer.
All those who knew Joi recall her as an exceptional young woman—analytical, sharp, and determined to make her mark on the world. Assistant Professor Christal Sohl was Joi's research mentor in SDSU's Department of Chemistry and Biochemistry Sohl Lab—and the first to congratulate her as "Dr. Joi Weeks."
"She was innately talented, bright, capable, independent—and she worked hard! I knew she was going places," Sohl remembers.
Path to Success
Even at a young age, Joi had a passion for science. She enrolled in the North Carolina Mathematics Science Education Network Pre-College Program, a STEM-enrichment program that recruits students from underrepresented populations in grades 6–12 and provides them with experiences that will equip them to attend a four-year college or university to pursue majors in STEM fields. According to Mattie Perry Johnson, Joi's mother, Joi relished participating in the program. "She loved to fix things and wanted to know how things work on a scientific level. She also enjoyed competing in the academic tournaments."  
Joi's competitive spirit shined through while running track and field, leading her to become a silver-medal junior Olympian. Although she was recruited for an Olympic career, Joi had set her mind to make a difference in the medical field and instead pursued a degree in science. She earned a bachelor's degree in chemistry from University of North Carolina at Chapel Hill and a master's degree in cell molecular biology from San Diego State University. Her scientific expertise ranged from cancer immunology and biology to genetics, developmental biology, chemistry, and biochemistry.
As a postgraduate in Sohl's lab at SDSU, Joi was primarily interested in cancer research and the role metabolic enzymes, specifically MDH1 and IDH1, function in certain types of brain and lung cancers. She created some of the first cell models of MDH1 as a driver of non-small-cell lung cancer, launching a new area of focus in the lab. She also chronicled her development of biochemical enzyme models involving IDH1 and their effect on cancer. According to Sohl, Joi's research on both enzymes could help scientists find new treatments and diagnostic tools for cancer in the future.
Mattie was proud of her daughter's lab research: "I was in tears watching her defend her work and achieve her PhD. It was amazing to hear and see her zip through the slides of information. I thought, if a cure for cancer or better treatments is out there, Joi would be the one to find it."
ARCS Foundation also recognized Joi's talents. She was an ARCS Scholar in 2019 and 2020, an honor that made a difference to Joi, her family, and friends—before and after her death, according to Sohl. "ARCS moved heaven and earth to acknowledge Joi and support her financially and emotionally."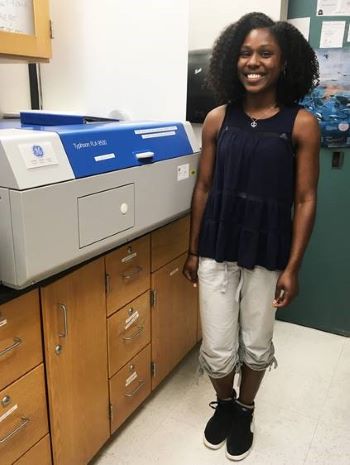 Dr. Joi Weeks inside the Sohl Lab where she researched how metabolic enzymes affected brain and lung cancers. (Courtesy: Dr. Christal Sohl)
Talent for Teaching
Although Joi was making strides in the lab, her ultimate career goal and true passion was to teach.
Sohl recalls watching Joi deliver a "chalk talk" seminar, writing out all the information without any notes or visuals in front of her.
"She was flawless. She diligently prepared for those presentations and told an engaging story. She had an innate ability to see the big picture of her research project and break it down in effective ways, indicating why her research was important and how she was going to solve her research problem. She communicated her theory clearly so that even professors and students from other departments understood her explanation."
Joi's ability to connect with people made her a popular mentor among less experienced students in the lab. "Joi was committed to these students and wanted them to do their best science," Sohl recalls. "She was kind but firm. She made sure they were careful in their research and performed critical thinking applications. And she was always there to celebrate their successes."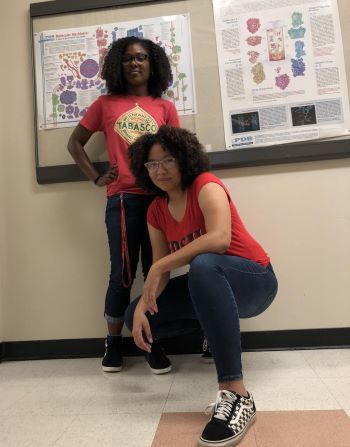 Dr. Joi Weeks (back) and fellow student Lexy Strom show off their "accidental" matching outfits. Strom says Joi was a friend and mentor in the Sohl Lab and described her as kind, talented, and tough as nails. (Courtesy: Lexy Strom)
One of those students, Lexy Strom, describes Joi as talented—and "tough as nails." "She had high expectations for my work and was very precise," Lexy remembers. "I'm eager to grow into a scientist that Joi would be proud of, and I can't wait to tell my future students about her. Joi's memory will live on forever in my science and in my heart."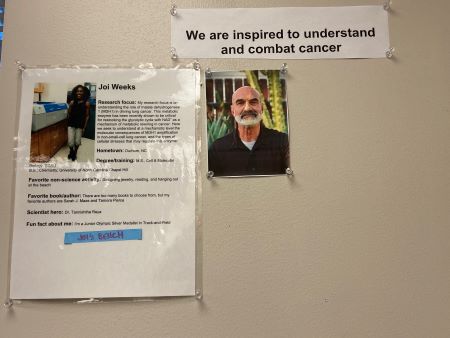 A photo of Dr. Joi Weeks and a sticker from her lab table hang on a wall inside the Sohl Lab. Joi's research mentor, Dr. Christal Sohl, says she hung the memorial to honor Joi and remind students, "why the research we're doing is important." (Courtesy: Dr. Christal Sohl)
Lasting Legacy
Sohl has honored Joi by placing a photo of her on a wall in the lab. She also printed and framed a portion of Joi's dissertation, which she keeps on her desk. "It's to remind us all why we're doing the research that we're doing," Sohl says. "Her dissertation inspires me to remember how important it is to mentor students and do what's best for each one."
SDSU faculty decided to honor Joi's memory by establishing the Dr. Joi Weeks Endowed Scholarship for Chemistry and Biochemistry Students to "financially empower African American chemistry students destined to make this world a better place."
According to Sohl, the department was working on a scholarship this summer to show their support of the Black Lives Matter movement. Joi had shared her encounters with implicit and explicit racism as a young Black woman in science, hoping that recounting how she overcame those experiences would inspire young African American and Indigenous students to rise above the challenges and become not just outstanding scientists but also compassionate mentors.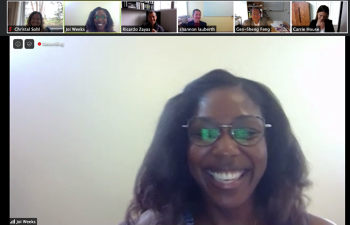 Joi Weeks (middle) successfully defended her PhD via video conference in May 2020 and added the title "Dr." to her name. Sadly, Dr. Weeks passed away a few months later from breast cancer. (Courtesy: Dr. Christal Sohl)
"When Joi passed away, the plan for the endowment fell into place," Sohl says. "We wanted to name the scholarship after Joi. And we knew the attributes we wanted to see in a candidate—basically all the positive characteristics Joi embodied and inspired in others"—the desire to become a better scientist, a better teacher, a better mentor—a better human being. "The scholarship is the best way to turn a tragedy into a triumph."
Joi's mother, Mattie, devotes a good deal of her time sharing information about the endowment and her daughter's achievements with underrepresented students. "I prayed to find a way to help others in memory of my daughter," she says, "and I'm motivated to see it through, even if it's just a small gesture of love and compassion. I hope whoever gets support from the endowment fulfills their dreams and shares their passion with others."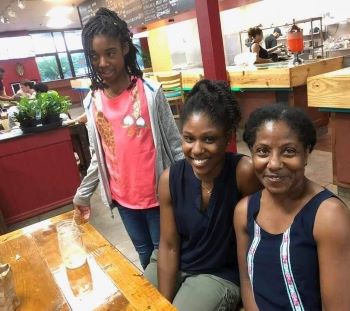 Dr. Joi Weeks (middle) enjoys spending time with her mom, Mattie Perry Johnson (right), and daughter Trinity in Raleigh, North Carolina. (Courtesy: Mattie Perry Johnson)
Mattie says Joi had begun video documentation of her experience with breast cancer and treatments to ensure people of all races understand the importance of being diligent about health concerns, regardless of their insurance status. Mattie plans to share those videos on YouTube in the hope of saving lives.