ARCS Scholar Katie Schneider is a mechanical engineering graduate student at the Colorado School of Mines. From leading her university's Solar Decathlon team in the construction of the Mines Tiny House to managing over seventy collegiate students in the design of the winning house model in the Solar Decathlon Africa 2019, Katie has proven that she is a part of the next generation of leaders in sustainable housing. 
In November 2019, Katie was invited to present at the Moonshot Morocco Youth Festival sponsored by the US Embassy. The festival is an opportunity for Moroccan high school and university students to learn more about pursuing careers in STEM. Katie was able to attend the event in Morocco— and inspire the next generation of potential STEM experts—thanks to her ARCS Scholar Award. 
Katie spoke to the Moonshot festival attendees about her time serving as project manager of The Inter House Team for the Solar Decathlon Africa 2019. The Decathlon is a competition in which collegiate students from around the world compete to design and build an affordable, solar-powered, net-zero energy model home.
It took seventy-six students from Colorado School of Mines, École National D'Architecture Marrakech, and Cadi Ayyad University nearly two years to design the house. Their inspiration stemmed from both the design of the Mines Tiny House and the influence of Moroccan architecture and building materials.
For overall efficiency, the team designed the house to be powered by solar panels; use a battery system with second-life batteries salvaged from electric cars, and feature smart home technology that relies on sensors. Once the building materials arrived in Morocco, several of the students from The Inter House Team joined onsite to participate in the three-week construction competition.
"I feel so fortunate to have had the opportunity to explore and experience Morocco, visit my team's Inter House, and engage with people about my passion," Katie expressed. "Thank you, ARCS, for supporting my efforts in the Solar Decathlon and encouraging me to take this opportunity!"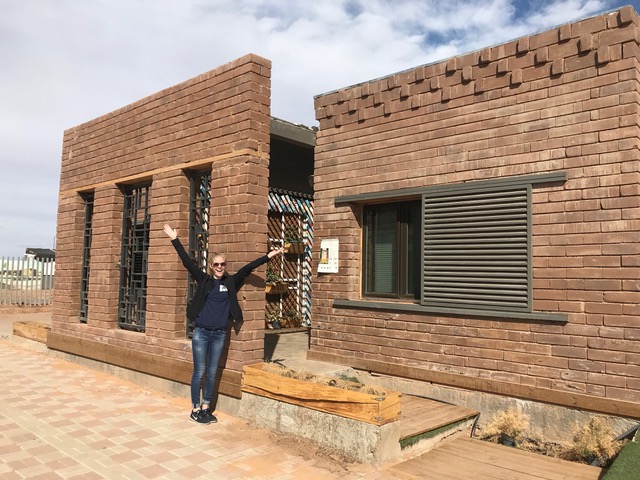 To read more about how ARCS supports opportunities like Katie's, follow this link.